Mission
We proclaim that human life is a precious gift from God; that each person who receives this gift has responsibilities toward God, self and others; and that society, through its laws and social institutions, must protect and nurture human life at every stage of its existence." U.S. Catholic Bishops, Pastoral Plan for Pro-Life Activities, November 2001
Following the guidelines of the United States Conference of Catholic Bishops, the Respect Life Ministry of the Archdiocese of Hartford works to promote respect for all human life from conception to natural death in four focus areas:
Education. Raising consciousness of the sacredness of human life and the societal and personal effects of pro-life values. We are available to speak with you and/or present to your parish group on respect life topics.

Pastoral concerns. Meeting the pastoral needs related to human life issues in the parishes of the Archdiocese through a network of persons. We want to help you create and/or maintain a thriving respect life ministry in your own parish

Advocacy. Promoting laws that protect life and helping those in our Archdiocese do the same.

Prayer. Placing all pro-life concerns in relationship with God from Whom the gift of life comes. Join us for our annual prayer events and in prayer throughout the year.
Staff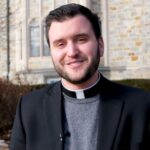 Reverend Glen Dmytryszyn
Director of Respect Life Activities
Father Glen Dmytryszyn was appointed Pro-Life director of the Archdiocese of Hartford in July of 2019. Father Glen earned a Bachelor of Arts Degree in Philosophy from Albertus Magnus College in New Haven in 2013. Following college, Father went on to earn a Master of Divinity degree in Sacred Theology from St. John's Seminary in Boston, Massachusetts as well as a Pontifical degree from the University of St. Thomas Aquinas. Father Glen was ordained to the priesthood on May 20, 2017 at the Cathedral of St. Joseph in Hartford by Archbishop Leonard P. Blair. Father Glen has served in many parishes and schools throughout the Archdiocese of Hartford. Currently he is Parochial Vicar of St. Gregory the Great Parish, Bristol, as well as part time chaplain at St. Paul High School.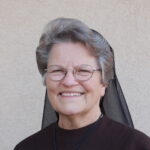 Sister Suzanne Gross, FSE
Program Coordinator
Sister Suzanne is a Franciscan Sister of the Eucharist. She graduated from Loyola University in Chicago and now holds a Masters Degree in Public Administration from the University of Hartford and a Masters Degree in Theology from Holy Apostles College and Seminary. Since 1987, Sister Suzanne has been the Administrator of Franciscan Home Care and Hospice Care and is a past president of the Connecticut Coalition to Improve End-of-Life Care. She presents at various conferences around the United States on end-of-life issues, human suffering, and the culture of life.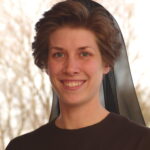 Sister Amaris Salata
Assistant Program Coordinator
Sister Amaris serves as the Assistant Program Coordinator. She brings a wealth of experience from her past. She earned a Masters degree in Accounting from Eastern Michigan University and is a licensed CPA. She has worked in the field of accounting and is now a Marriage and Family therapist at Franciscan Life Center, Meriden. She earned a Masters degree in Marriage and Family Therapy at Central Connecticut State University and is a candidate for a Masters in Theology at Holy Apostles College and Seminary. Sister Amaris is available to present on any topics concerning the pro-life mission. She is a temporary professed Sister with the Franciscan Sisters of the Eucharist.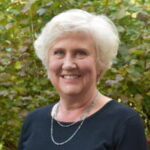 Marie Laffin
Site Leader and Facilitator for Rachel's Vineyard Retreats
Marie has been the Site Leader and Facilitator of Rachel's Vineyard weekend retreats since 2012. Marie is the Clinical Director of Franciscan Home Care and Hospice Care, a faith-based home health agency. She received an Associates Degree in Nursing from Quinnipiac University and a Bachelor of Arts Degree in Psychology from Providence College. Marie has two adult children, two grandchildren, and is a parishioner of Most Holy Trinity Parish in Wallingford.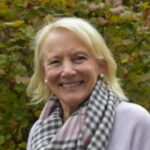 Janice Hunter
Program Assistant
Janice has worked per diem for the Pro-Life Ministry since 2000 and has helped organize many of the conferences and Masses sponsored by the Ministry. She and her husband, David, raised six children and now have sixteen grandchildren. The Hunters' daughter, Sister Clare Hunter, is a Franciscan Sister of the Eucharist. Janice and David are parishioners of St. Bridget of Sweden Parish in Cheshire.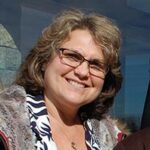 Teresa Wells
Program Assistant and 40 Days for Life Coordinator

Teresa works part time for the Respect Life Ministry and provides administrative support through maintenance of the database and sending  updates to the parish pro-life representatives and advocates. A classically trained violinist and a licensed nursing home administrator, Teresa currently works as the Director of Quality for the Jerome Home in New Britain. She and her husband Mickey, the parents of three children, are parishioners of St. Bridget of Sweden in Cheshire, where they maintain a small farm.
"After all, life on earth is not an "ultimate" but a "penultimate" reality; even so, it remains a sacred reality entrusted to us, to be preserved with a sense of responsibility and brought to perfection in love and in the gift of ourselves to God and to our brothers and sisters." Pope John Paul II, The Gospel of Life